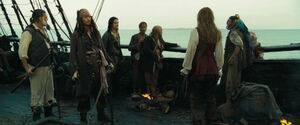 Abandon ship was a term meaning to leave completely and finally, ceasing to operate or inhabit a vessel, commonly in response to an impending threat. Given as an order by a ship's officer.
Jack Sparrow gave his crew the order to abandon ship when the Black Pearl was attacked by the Kraken.[1] As the Black Pearl and the Flying Dutchman fired upon the Endeavour, Theodore Groves gave the order to abandon ship.[2] On another occasion, Lieutenant Gillette gave the order to abandon ship after the longboat he and his men were in was about to be crushed by the HMS Dauntless.[3]
Community content is available under
CC-BY-SA
unless otherwise noted.