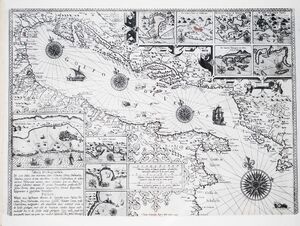 The Adriatic Sea was a body of water to the east of Italy. It separated the Italian peninsula from the Balkans. In ancient times, the pirates of Illyria were famous for attacking ships in the area.
During the late 16th and early 17th century, the town of Senj on east Adriatic coast was the home port of uskoks, the Croatian privateers who fought for the Austrian Empire. They pillaged Venetian and Ottoman ships, resulting in a war between the Austrian Empire and Venetia (1615-1617).
The notorious pirate Jack Sparrow sailed across the Adriatic at some point before he joined the East India Trading Company.[1] The Spanish pirate Eduardo Villanueva was the Pirate Lord of the Adriatic Sea from the early 1710s to the late 1720s.
Notes and references
Edit
External links
Edit
Community content is available under
CC-BY-SA
unless otherwise noted.