"And what of you? The mighty Blackbeard. Beheaded, they say. Still, your body swam three times around your ship, then climbed back onboard."
The Adventure was a sloop that sailed in the Caribbean in the 1710s. She was captained by the infamous pirate Edward "Blackbeard" Teach.
After Blackbeard lost the Queen Anne's Revenge and his 10-gun sloop on a sandbar in 1718, he removed his booty to the remaining ships and sailed to Bath Town in North Carolina. There he sold one of his two-remaining ships, keeping only one, an 8-gun sloop which he named Adventure.
Though he received a Royal Pardon, Blackbeard soon turned back to piracy. He sailed to the Bermudas, where he captured two English vessels. He emptied them of their stores and other necessaries, and allowed them to proceed. He also encountered two French vessels bound for Martinique, the one light, and the other laden with sugar and cocoa: he put the men on board the latter into the former, and allowed her to depart. Blackbeard brought the captured vessel into North Carolina, where he and the governor shared the prizes. The captured French ship was burned and left to sink.
A few months later, the Adventure was moored off the coast of Ocracoke island. That was a fatal mistake. The Ocracoke Inlet had but one exit to open sea.[1] On the evening of November 21, the two sloops appeared, flying the British flags. The sloops were the Jane and the Ranger, crewed by the British Royal Navy sailors, and commanded by Lieutenant Robert Maynard, who was sent by the governor of Virginia to capture Blackbeard.[1]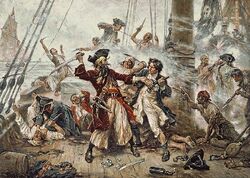 Blackbeard cut his anchor cable and quickly attempted to move towards a narrow channel. However, his sloop ran aground.[1]In the ensuing battle, the British crews suffered heavy casualties, but they defeated the pirates, capturing the Adventure. Through an unknown circumstances, Blackbeard managed to escape. But legends about his death in the battle soon arose, one of them saying that he was decapitated, and that his headless body swam three times around the Adventure and climbed back onboard. Many years later, the legend of Blackbeard climbing on board this ship would be mentioned by Jack Sparrow, who confronted the infamous pirate aboard the Queen Anne's Revenge.[2]
Behind the scenes
Edit
Appearances
Edit
Notes and references
Edit
Community content is available under
CC-BY-SA
unless otherwise noted.