This article is about a soundtrack theme composed by Hans Zimmer. You may be looking for the individual Angelica.
Angelica is a musical theme composed by Hans Zimmer and Eduardo Cruz for Pirates of the Caribbean: On Stranger Tides. It appeared as a track on the film's soundtrack.
Track Description
Edit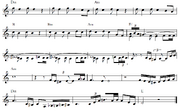 This track consists of a suite of themes for the character of the same name in a Latin American style. At its simplest it is a very basic tango, featuring Rodrigo y Gabriela accompanied by a light string ensemble to connect it to the rest of the score.
The track features two main themes and a large quantity of lesser motifs, and is loosely written in Rondo form. All the sections are the same length, and use the same (or very similar) chord progressions.
The main idea of the piece is the syncopated two note motif that can be heard underlaying many of the minor themes. It also has several sections dedicated exclusively to it, where it is transposed though many different keys. This theme is what is heard most in the rest of the score.
The syncopation of the main tune and its role as an accompaniment helps define the piece, giving it the off-beat flair that is typical of tangos and similar Latin American music.
The music is highly decorated, which was probably not written in the score, but added by Rodrigo y Gabriela during performance (note: the Hal Leonard piano transcription includes many of the ornaments heard in the official recording). There is increasing ornamentation as the piece progresses.
Composition
Edit
Euduardo Cruz (brother of Penélope Cruz, who portrayed Angelica) contributed significantly to the writing of this piece. The tango idea was conceived to fit the character of Angelica, who is Spanish. Oddly enough, the theme for the Spanish does not share these elements.
The Angelica track is not heard in its entirety in On Stranger Tides.
Angelica is the only track written in true concert suite format.
Appearances
Edit
Community content is available under
CC-BY-SA
unless otherwise noted.