Brinescum was a crew member aboard the Flying Dutchman serving under Captain Davy Jones and unlike Two Head Brinescum is just one person.
Behind the scenes
Edit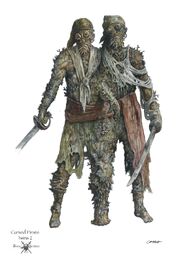 Brinescum was designed after Two Head, another member of Davy Jones' crew.
In Pirates of the Caribbean Online Brinescum can be found on Isla Tormenta.
"Brine" is a word meaning sea water, while "Scum" refers to filthy matter, such as that that appears on the Dutchmen crew members.
Appearances
Edit