Centurion
Career information
Owner(s)
Captain(s)
Notable crewmembers
Passengers
Technical information
Type
Weapons
Affiliation

Spanish Royal Navy (formerly)
Spanish Treasure Fleet

Behind the scenes
First appearance
Latest appearance
"Captain Villanueva used the Centurion to fight both Chevalle and Ammand for the right to plunder the Mediterranean."
―Unknown
The Centurion was a Spanish Treasure Galleon owned and captained by Pirate Lord Eduardo Villanueva.
"Hey, François, am I drunker than I thought? Is that a ship coming in?"
"But-there is no wind. Is it the Flying Dutchman?"
"No, that's a Jolly Roger. But whose?"
"Villanueva."
The Centurion was Villanueva's favorite ship from his personal privateer fleet, the Spanish Treasure Fleet. He used the Centurion for many battles in the Mediterranean Sea against the Barbary Corsairs led by Ammand and the French pirates led by Chevalle.
At the beginning of 1730s, Villanuvea and his crew sailed off the coast of Spain, when they encountered two burning wrecks, victims of a band of rogue pirates. A few months later, the Centurion docked in Shipwreck Cove, and Villanueva told the tale of his discovery to assembled Pirate Lords. All the Pirate Lords at the meeting agreed to take actions against the rogues, to prevent the navies of Europe from declaring war on piracy.[3] A few days later, Villanueva organized a game of Hazard aboard the Centurion.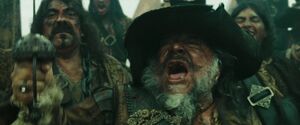 During Jack Sparrow's search for the Shadow Gold, the Centurion was commandeered by the Shadow Lord who used it to sail from the Caribbean to Marseilles, France. Villanueva and his whole crew were captured.[4] However, they were freed a few days later when Jack Sparrow and the French Pirate Lord Chevalle came onboard.[5] Years later, during Lord Cutler Beckett's War Against Piracy, the Centurion was part of the Brethren Court fleet that witnessed the Battle of Calypso's maelstrom.[6]
Appearances
Edit
Notes and references
Edit
Community content is available under
CC-BY-SA
unless otherwise noted.