Boba Fett Returns - The Loop
Play Sound
E
[
]
Earl
[
]
A member of the British peerage ranking below a marquis and above a viscount.
Effects
[
]
Goods or personal possessions. [1] Jack Sparrow commonly refered to his pistol, compass, hat, sword and coat as his effects.[1]
Exceptional, conspicuous, outstanding, most usually in a negative fashion; Outrageously bad.
EITC
[
]
Abbreviation of East India Trading Company.
Eldritch
[
]
Strange or unearthly; eerie.
Eleri ipin
[
]
Witness of fate. In Yoruba mythology, it is frequently known as Orunmila, the spirit of wisdom among the Irunmole and the divinity of destiny and prophecy.[2]
Emissary
[
]
A person or agent sent on a special mission to represent the interests of someone else. Bootstrap Bill Turner was sent as an emissary when Jack Sparrow's debt with Davy Jones was due.
Eres malo! Malo como el demonio!
[
]
This Spanish phrase means "You are bad! Bad as hell!" Angelica shouted these lines toJack Sparrow after he marooned her on Sola Fide Beach.
Ergo
[
]
A Latin word meaning "therefore".
Escape
[
]
To free oneself. To avoid, elude, or get away from any unpleasant person or thing. To avoid capture; to get away with something to avoid punishment. Jack Sparrow was known to escape a great deal of dangers.
Esquire
[
]
An unofficial title of respect. George Swift was sometimes called G.W. Swift, Esquire. The Letters of Marque that King George II gave to Hector Barbossa were addressed "To Captain Hector Barbossa, Esq."
Et cetera
[
]
A Latin expression that is used in English to mean "and other similar things", or "and so forth". Translated literally from Latin, et means 'and', while cētera means 'the rest'; thus the expression means 'and the rest (of such things)'.
A castrated man; slang for an ineffectual or unmasculine man. [3] Jack Sparrow commonly referred to William Turner as such.[1][2]
Evil
[
]
Evil is profound immorality. In certain religious contexts evil has been described as a supernatural force. Definitions of evil vary, as does the analysis of its root motives and causes. However, elements that are commonly associated with evil involve unbalanced behavior involving expediency, selfishness, ignorance, or neglect.
Execution
[
]
The carrying out of a sentence of death on a condemned person.
Executioner
[
]
An executioner was an official who carried out a sentence of death on a condemned person. Port Royal and Saint Martin had executioners during the Age of Piracy.
Exorcism
[
]
The practice of evicting demons or other spiritual entities from a person or an area they are believed to have possessed.
Explosive Rounds
[
]
These are special cannon rounds in Pirates of the Caribbean Online. They cause a massive explosion on impact.
Eyepatch
[
]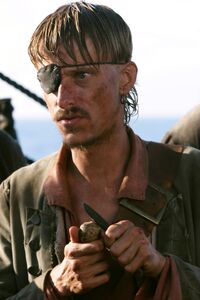 A small patch that is worn in front of one eye. It is used to cover a lost or injured eye.
Notes and references
[
]