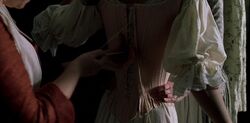 "I'm gonna teach you the meaning of pain!"
"Do you like pain? Try wearing a corset."
―Jacoby and Elizabeth Swann
A corset was a woman's foundation garment, reinforced with stays, that supported the waistline, hips and bust.
Elizabeth Swann once wore a corset for James Norrington's promotion ceremony. However, Elizabeth found it very tight and made it very difficult for her to breathe, leading her to lose consciousness and topple over Fort Charles battlements to the ocean below. However, Elizabeth was rescued from drowning by Captain Jack Sparrow, who cut off her corset once she was taken to the docks to recover.[1]
AppearancesEdit
Notes and referencesEdit
External linksEdit