Wiki Targeted (Entertainment)
Play Sound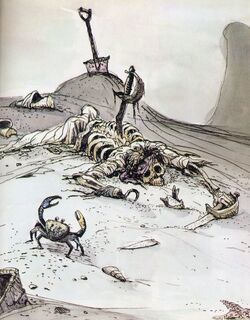 A crab was a 10-legged animal that walked sideways. The foremost legs were in the form of claws. Most crabs lived in the oceans, but many lived on land.
History
[
]
As a heathen goddess, Calypso was able to take many forms. But since the crab was attributed as her symbol, most notably by pirates, she chose that form.[1] During the Age of Piracy, crabs inhabited many islands in the Caribbean. Some crabs however were cursed by Jolly Roger into joining his army of creatures that inhabited most islands.[2] When the natives from the island of Opawy Wato replaced their golden idol with the figurehead of the pirate ship Nemesis, the angry deity brought upon them a terrible curse which transformed them into crab-like monsters.[3]
Steamed and buttered crabs were one of Jack Sparrow's favorite meals.[4] When Jack found the body of One Tooth Tommy in Shipwreck Cove, a bunch of crabs were already beginning to eat the corpse.[5] More than a decade later, when Jack Sparrow and Will Turner rowed inside the caves of Isla de Muerta, they saw a crab near a skeleton with a sword on its back.[6] Also, cursed crabs existed at the neighboring Rumrunner's Isle.[2] A year later, when Bootstrap Bill Turner came onboard the Black Pearl to give the Black Spot to Jack, he caught and ate a tiny little crab.[7]
With a clatter of crab claws on a rough wooden table, the voodoo mystic Tia Dalma used crab claws as they hold unfathomable powers, revealing a person's fate and spelling out your destiny, despite their fears.[7] With crab claws, Tia Dalma could see what ordinary mortals could not by gently throwing the claws on the table and "reading" their positions.[8]
Behind the scenes
[
]
Appearances
[
]
External links
[
]
Notes and references
[
]