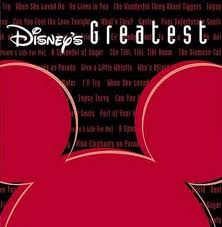 Disney's Greatest Hits Volume 3 is a compilation of the best music produced by the Disney company. Released on August 20, 2002, the album was produced by Ted Kryczko and performed by various artists.
Track listing
Edit
I'll Try (Return to Never Land)
When She Loved Me (Toy Story 2)
He Lives in You (The Lion King II: Simba's Pride)
The Wonderful Thing About Tiggers (The Tigger Movie)
Topsy Turvy (The Hunchback of Notre Dame)
Can You Feel the Love Tonight (The Lion King)
What's This? (The Nightmare Before Christmas)
Gaston (Beauty and the Beast)
Poor Unfortunate Souls (The Little Mermaid)
Part of Your World (The Little Mermaid)
Best of Friends (The Fox and the Hound)
Everybody Wants to Be a Cat (The Aristocats)
Yo Ho (A Pirate's Life for Me) (Pirates of the Caribbean)
A Spoonful of Sugar (Mary Poppins)
The Tiki, Tiki, Tiki Room (The Enchanted Tiki Room)
The Siamese Cat Song (Lady and the Tramp)
Pink Elephants on Parade (Dumbo)
Give a Little Whistle (Pinocchio)
Who's Afraid of the Big, Bad Wolf? (The Three Little Pigs)
Mickey Mouse March, Alma Mater (The Mickey Mouse Club)
External links
Edit
Community content is available under
CC-BY-SA
unless otherwise noted.