"The East India Trading Company has need of your services."


The blank edges of the map must be filled in. This article has an excess of redlinks in it.
Attention is requested to create new articles from these links. Please remove this message when finished.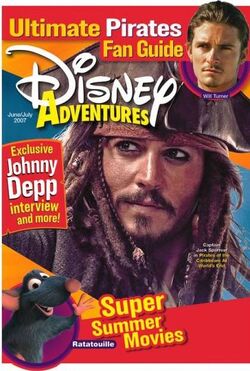 Disney Adventures is a magazine published by The Walt Disney Company. The magazine publishes articles about television shows on the Disney Channel, movies (especially Disney's movies), video games, books, and comics. Disney Adventures was available on newsstands and by subscription. The American magazine was discontinued after the November 2007 issue due to declining ad sales, however Australia's Disney Adventures are still going strong.
Notable publications
Edit
Brimstone
Chris Dickey
Fabrico Grellet and Magic Eye Studios
Paul Mounts
Felix Serrano
Jim Amash
Mike DeCarlo
Mike Manley
Wade Von Grawbadger
Lettering
Edit
Bret Blevins
Steven Butler
Dustin Evans
Christopher Jones
Stuart Immonen
External links
Edit