D23 is the first official Disney fan club for dedicated fans, sponsored by the Walt Disney Company. The Charter Year of D23 was in 2009.
D23 was introduced on March 10, 2009 by Robert Iger during the company's annual meeting in Oakland, California. The name D23 refers to D for Disney and 23 for 1923, the year when Walt Disney arrived in Hollywood and the company was founded. Walt only came with a little amount of money and no job, as he is quoted as saying: "I came to Hollywood and arrived here in August 1923 with forty dollars in my pocket and a coat and a pair of trousers that didn't match. And one half of my suitcase had my shirts and underwear and things and the other half had my drawing materials..." The goal of D23 is to communicate with Disney fans by "placing them in the middle of the magic."
D23 Expo 2009
Edit
At the second day of the D23 Expo in Anaheim, California on September 11, 2009, the Walt Disney Studios chairman Dick Cook took the stage and began presentations chock-full of breaking news and never-before-seen trailers from the newest Disney films. There had been two hours of non-stop film clips, announcements, and celebrity guest appearances. This was before the final message in an incredible presentation made to Disney fans.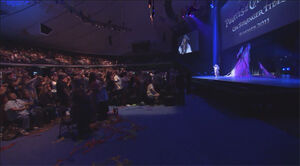 When thousands of die-hard Disney fans were sitting at the D23 Expo, to their surprise, Johnny Depp—in full Captain Jack Sparrow regalia—emerged onto the stage. After greeting Disney chairman Dick Cook, in swaggering character, Depp asked about a "talking frog", referencing either Disney's previously announced The Princess and the Frog or The Muppets.[1] Together, with a logo banner above them, Depp and Cook officially announced Pirates of the Caribbean: On Stranger Tides and that it was going to be released in Summer 2011.[2][3] This announcement was the first the public had officially heard of a fourth Pirates film, after being confirmed in development a year prior during a Disney event at the Kodak Theater, and it was eventually confirmed that it would be based upon Tim Powers' novel of the same name.[4]
External links
Edit
Notes and references
Edit