Spider-Man: No Way Home Trailer Dropped - The Loop
Play Sound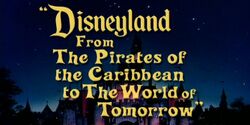 "I remember as a kid watching the episode of 'The Wonderful World of Color' which introduced the 'Pirates' ride, and being totally blown away by it at the time. The opportunity to be involved with something that references this is, in my mind, a tribute to designers like Marc Davis and others who did such incredible work. It was such a pleasure to be able to do that."
Disneyland: From the Pirates of the Caribbean to the World of Tomorrow was an episode from The Wonderful World of Disney that originally aired January 21, 1968. A portion of the episode, also titled Walt Disney's Wonderful World Of Color, was included on the DVD release of Pirates of the Caribbean: The Curse of the Black Pearl.
Starting off with a clip from the Disneyland 10th Anniversary show that shows Walt Disney describing the Pirates of the Caribbean attraction when it was in the conception stage. The program then shows how Walt's dream was realized by presenting footage of opening day for the Pirates of the Caribbean ride, as well as showing audiences going inside the ride itself.
Production designer Rick Heinrichs mentioned the episode when talking about building the "Pantano River", with Tia Dalma's shack as its centerpiece, set for Pirates of the Caribbean: Dead Man's Chest. Filling up almost every inch of Stage 2 at Walt Disney Studios, this set was a truly magical evocation of a Caribbean swampland river, lined with stark, overhanging trees and brush and rickety lean-tos—a deliberate tip of the hat to the original Disneyland "Pirates of the Caribbean" attraction.[1]
External links
[
]
Notes and references
[
]