Boba Fett Returns - The Loop
Play Sound
Finnegan was a member of Captain Davy Jones' crew aboard the Flying Dutchman around the time Lord Cutler Beckett assumed control of the Dutchman and its crew.
Biography
[
]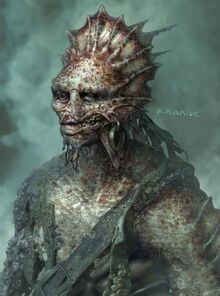 At some unknown point in his life, Finnegan found himself in servitude aboard the Flying Dutchman under Captain Davy Jones. As with the other crew members aboard the Flying Dutchman, Finnegan slowly took on characteristics of various sea creatures over time, and his skin altered to the coloring of a rockfish. Sharp, serrated fins protruded from his body, and his cleft lip twisted Finnegan's mouth into a permanent snarl.
He remained in service to the Dutchman when Lord Cutler Beckett of the East India Trading Company took over the Dutchman, and when dozens of East India Trading Company soldiers were stationed aboard the ship. Finnegan was seen holding a sword to an East India Company soldier's throat aboard the Empress. He looked up as Davy Jones walked past and discovered Ian Mercer in his cabin. He fought in the battle around Calypso's maelstrom, during which he, Broondjongen and Manray stood atop the crow's nest yelling at the enemy. Finnegan would later swing aboard the Black Pearl and duel Will Turner and Elizabeth Swann during their impromptu marriage. He likely reverted to his human form after Turner assumed command of the Dutchman. Whether he remained aboard the ship or left the crew after Davy Jones' death remains unclear, leaving his fate unknown.
Appearances
[
]
External links
[
]