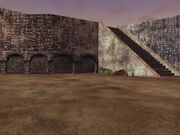 On the far end of Los Padres is the navy Fort Dundee, built to strengthen the British position in the Caribbean after routing the Spanish from Padres Del Fuego.
The fort has a regiment of tough soldiers (Sergeants, Veterans and a few officers). The jail here is a little tougher to escape from for beginners, since you have to fight your way out past the guards, unlike the other islands where security is more lax.
At one quest will have you here searching the commandant office in the bowels of the fortress, where you will after to fight past a few tough customers.
Community content is available under
CC-BY-SA
unless otherwise noted.