Guilty Of Being Innocent Of Being Jack Sparrow is a musical theme composed by Hans Zimmer for Pirates of the Caribbean: On Stranger Tides. It appeared as a track on the film's soundtrack and on the film's complete soundtrack.
Track Description
Edit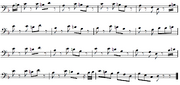 The track consists mainly of variations of Jack's various themes, first heard in Fog Bound in The Curse of the Black Pearl and Jack Sparrow in Dead Man's Chest. There are also hints of his theme for At World's End, from "Up Is Down", though barely distinguishable.
The track begins with a reprise of the playful cello theme first heard in Fog Bound, before building into a slow low brass quote of the first two measures of Jack's original theme. The cello theme from Fog Bound then returns combined with a french horn heavy reprisal of Jack's theme from Dead Man's Chest, before reprising the string crescendo first heard at the end of Walk The Plank. The track ends by re-stating the playful cello theme once more, before a french horn plays the often-used three-note ascending phrase—most notably used at the end of Hello Beastie—whilst cello, trombone and snare play a chopping staccato line underneath.
It is heard during the first scene in London, during Joshamee Gibbs' trial in the Old Bailey. This track also played as Jack Sparrow's first appearance in On Stranger Tides.
This track is also known as "The Courtroom" from the alternative track listing of the extended score.
At 1:43 mintues, this is the shortest track on the On Stranger Tides album.
This track comes first on the album, but is preceded chronologically in the film by "On Stranger Tides", which is second from last.
There is no new thematic material in this track, albeit what could be considered as a very minor motif. However it is not heard at any other point throughout the film's duration, so it was unlikely it was intended as such.
Appearances
Edit
Community content is available under
CC-BY-SA
unless otherwise noted.