Spider-Man: No Way Home Trailer Dropped - The Loop
Play Sound
"We are an unimaginative lot when it comes to naming things."


The title of this article is conjectural.
Although this article is based on canonical information, the actual name of this subject is pure conjecture. Please see the reasons for this title in the "[[::Jack and Angelica's longboat#Behind_the_scenes|Behind the scenes]]" section below, and/or the relevant discussion on the talk page.
This small longboat was used by Jack Sparrow as transportation to maroon Angelica on Sola Fide Beach and meet up with Joshamee Gibbs on an another island.
History
[
]
Jack's boat
[
]
It is unknown where this longboat came from and who made it, or even how Jack Sparrow was able to obtain it. After the battle at the Fountain of Youth, Jack had Angelica tied up aboard the boat as he took her to maroon her on Sola Fide Beach, a tiny desert island. Upon arriving, Jack threw Angelica a pistol with one shot.
Angelica desperately tried to convince Jack not to leave her there, even by going as far as telling Jack that she loved him, to which Jack stated that he did as well. They leaned in to kiss each other, but not before Jack quickly broke away and ran for the dinghy. Angelica angrily called out to Jack and then used her pistol with one shot to try and shoot him, but missed. She was simply left to curse at him as he rowed away.
Jack rowed the longboat ashore on an island to meet with Joshamee Gibbs, who was able to retrieve Jack's beloved ship, the Black Pearl. The fate of the longboat is unknown.
Behind the scenes
[
]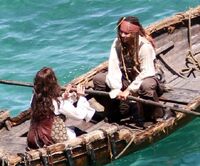 In the Pirates of the Caribbean: On Stranger Tides screenplay, the longboat was described to have a "mast in place but sail furled", while in the film it was just an ordinary longboat.
Before On Stranger Tides was released, some speculated that this was a love boat that Jack Sparrow and Angelica would row together in.
Appearances
[
]