Jelly was a crew member aboard the Flying Dutchman serving under Captain Davy Jones around the time Lord Cutler Beckett assumed control of the Flying Dutchman and its crew.
Biography
Edit
At some unknown point in his life, Jelly found himself in servitude aboard the Flying Dutchman under Captain Davy Jones, and spending so much time onboard the Dutchman transformed Jelly's body; he had multiple jellyfish clinging to his body, most notably a large specimen covering his left eye. This eye was black and lifeless, giving the impression of a hyphema. The human elements that could still be glimpsed underneath the jellyfish membrane appeared to be regressing back to an embryonic state. His skin became corrosive and translucent, and seemed similar to symptoms of Ebola, where the skin began to rash and liquify.
Jelly remained in service aboard the Dutchman when Lord Cutler Beckett of the East India Trading Company Armada assumed command of the ship and its captain, and when dozens of East India Trading Company soldiers were stationed aboard the ship. Jelly was present aboard the Empress when Davy Jones confronted its captain, who turned out to be Elizabeth Swann. He later held a sword to an East India Company soldier's throat, and looked up as Davy Jones walked past and discovered Ian Mercer in his cabin.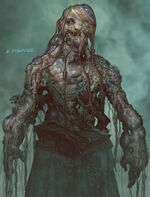 Jelly fought in the battle around Calypso's maelstrom, fighting Hector Barbossa as he presided over the impromptu marriage of Elizabeth Swann and William Turner. Jelly murdered a Chinese pirate as he boarded the ship, and was beaten up by Cotton atop the quarterdeck. He fought the fearsome Barbossa, but the notorious captain stabbed Jelly's sword through Urchin into Morey, then threw Jelly to Cotton who cut him down. At the end of the battle when the Black Pearl was going down slowly into the whirlpool, after most of the Dutchman crew had returned to their ship, Jelly was still seen behind Barbossa fighting a Chinese pirate. How he managed to return to the Dutchman is unknown, but he likely reverted to his human form when Turner became captain of the Flying Dutchman. Whether he chose to remain in service aboard the vessel or left its crew remains unclear, leaving his final fate unknown.
Behind the scenes
Edit
Jelly was designed by concept artist Aaron McBride, who studied cases of Ebola and hyphema, and the development of chicken embryos, in order to develop the character's appearance.
Jelly was played by an unknown, uncredited actor.
Appearances
Edit
Community content is available under
CC-BY-SA
unless otherwise noted.