"We are an unimaginative lot when it comes to naming things."


The title of this article is conjectural.
Although this article is based on canonical information, the actual name of this subject is pure conjecture. Please see the reasons for this title in the "Behind the scenes" section below, and/or the relevant discussion on the talk page.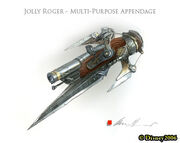 The Multi-Purpose Appendage, which Jolly Roger used to replace his missing right hand and forearm.
Design and appearance
Edit
This contraption ressembled a cross between a dagger, pistol and bayonet. It was assumedly attached to Roger's wrist bones. It could be operated and shot without the need of a trigger.
The only drawback of this device is its single-shot capacity, which proved a nuisance to Roger during invasions.
From its appearance, it is assumed that it could be used as a stabbing weapon; Roger has never used it thus so far.
Behind the scenes
Edit
Appearances
Edit
Community content is available under
CC-BY-SA
unless otherwise noted.