Wiki Targeted (Entertainment)
Play Sound
"He's such an icon, and you know we were all excited, especially because we were in London filming. So the crew was out of their skin, and in comes this lovely man, so funny. He loved being there. He loves playing this character. He's just a natural actor, and if you just let him do his thing it's really good."
Keith Richards is an English musician and songwriter, and a founding member of The Rolling Stones. Richards had come to be seen as the quintessential rock and roll guitarist. He had been called "the Human Riff," and his playing, an uncanny combination of irreducible rawness and innate musicality, had made him one of the most influential musicians in rock history. Rolling Stone magazine said Richards had created "rock's greatest single body of riffs," and ranked him 4th on its list of 100 best guitarist. Fourteen songs Richards wrote with Rolling Stones' lead vocalist Mick Jagger are listed among Rolling Stone magazine's "500 Greatest Songs of All Time."
His candor, rigorous personal integrity, and uncompromising commitment to the music he loved had earned him the respect not only of the people who grew up with The Rolling Stones, but of succeeding generations of younger fans. He was an outlaw, but with an aristocratic bearing; a fearsome figure, but with unmistakable touches of sweetness and vulnerability; a feral rocker who can also break your heart with a lovely ballad. That's why Johnny Depp had cited Keith Richards as an inspiration for his portrayal of Jack Sparrow in the Pirates of the Caribbean series, which made Richards the ideal choice to portray Jack's father Captain Teague in At World's End and On Stranger Tides.
Biography
[
]
Life and career
[
]
The Rolling Stones
[
]
The Rolling Stones, of course, were among the handful of artists who redefined popular music when they emerged from London in the 1960s, and Keith Richards was one of the seminal group's founding members. In particular, he loved the American blues and R&B that have proven to be important elements of the Stones' music. Richards was the engine that drove the band's irresistibly rhythmic sound, and collaborating with singer Mick Jagger, he had written some of the most indelible songs of the rock era, including "(I Can't Get No) Satisfaction," "Start Me Up," "Brown Sugar" and "Jumping Jack Flash." In addition, Richards had made two solo albums, Talk Is Cheap and Main Offender, with his band, the XPensive ("as in formerly thinking," he wryly explained) Winos.[1]
Film career
[
]
Nor was Richards a stranger to the world of film. He produced the music for the concert film Chuck Berry: Hail! Hail! Rock 'n' Roll (1987), directed by Taylor Hackford, in honor of Berry's 60th birthday. Gimme Shelter, the Maysles Brothers documentary of the Stones' tumultuous American tour in 1969, is widely regarded as one of the best rock and roll films ever made. Martin Scorsese, Jean-Luc Godard and Hal Ashby are among the other directors the Stones have worked with in the course of their storied career.[1]
Pirates of the Caribbean

[

]
Johnny Depp's inspiration
[
]
Johnny Depp, a close friend of Richards, had cited Keith Richards as an inspiration for his portrayal of Captain Jack Sparrow in Pirates of the Caribbean: The Curse of the Black Pearl. Depp, who developed his ideas for the character, had strong ideas about Jack's attitude and appearance. He modeled a large part of Jack Sparrow after Keith Richards, saying that "Pirates were the rock stars of their day."[2] Captain Jack Sparrow's famous look was a collaboration in the first film between costume designer Penny Rose, key makeup artist Ve Neill, key hairstylist Martin Samuel, and Johnny Depp himself. "Having spent some time with Keith Richards was certainly a huge part of the inspiration for the character," said the actor. "I spent a little time with Keith here and there, and each time I'd see him he'd have a new thing tied into his hair. 'What is that hanging?' I'd ask, and Keith would say, 'Ah yeah, I got that in Bermuda,' or wherever. So it felt to me like Jack, on his travels and adventures, would see something and go, 'Oh yeah, I'll keep that,' tie it in his hair or have someone else do it. Each little trinket would have a story. For example, the bone that hangs just above the bandana is a shinbone from a reindeer. Then Jack has the dangly bits, beads, a chicken foot, a fertility symbol, weird animal tails. There's no telling where he got those, and it might have been lunch!"[3]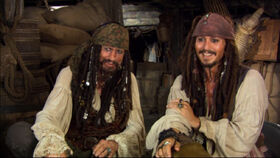 In later interviews, after Keith Richards came aboard the Pirates series as Captain Teague. "The sort of connection I made when first thinking about Captain Jack," said Johnny Depp, "was the idea that pirates were the rock and roll stars of that era. Their myths or legends would arrive months before they would ever make port, much like rock stars." "It's about freedom, baby," adds Richards. "Open the cage, let the tigers out. Somebody's gotta do the naughty work. It's not so much about destroying the establishment. It's to prevent them from destroying you."[1]
In 2005, rumors had floated around, saying that Keith Richards would appear in Dead Man's Chest as Jack Sparrow's father. But was tied up with a tour with The Rolling Stones.[4]
At World's End

[

]
For At World's End, there was the matter of who would be chosen as Captain Teague, Keeper of the Code, the Pirata Codex. For nearly a year, rumors have said that it would be none other than Keith Richards of The Rolling Stones, which, for a refreshing change, were true.[1]
Along with designing costumes for the buccaneers from all corners of the globe who convene in Shipwreck Cove, costume designer Penny Rose would design the costume for Captain Teague. "I was fortunate enough to give Mr. Richards a fitting in July 2005, when he was in Los Angeles just prior to the band rehearsals," recalls Rose. "And it so happened that it was a week when Johnny Depp was not working, so I asked him to come with me, which he very kindly did. I must say, it was fairly hilarious to see the two of them together, because once Keith was dressed in costume, you really could believe that the two of them were related."
"It was a bizarre moment," continues Rose, "because how often do you get to costume a rock icon? But Keith was dying to be a pirate. I mean, he wanted to go out that night dressed in the pirate costume! So I think he really enjoyed the process.[1]
In June 2006, Pirates director Gore Verbinski finally managed to make room in Keith Richards' schedule to shoot that September, in which they would film scenes with the Brethren Court.[5] Richards almost missed filming following injuries sustained by falling out of a tree.[6] Richards was understandably somewhat wary at first of accepting the role of Captain Teague. "When I first heard about it, I was thinking, oh my God, this is an Elvis Presley thing. You pop in and sing. But when I saw how it fit into the whole scenario, then it felt quite natural to do it. And they've also made me a lovely guitar."[1]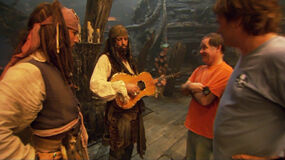 Strumming that guitar—especially designed and built for him by the legendary instrument maker Danny Farrington at the request of prop master Kristopher E. Peck—and wielding a mean flintlock pistol, Richards took the company, and the days on which he filmed, by hurricane force. "It was kind of a long shot to even think about getting Keith to do this," said Depp. "The fact that he agreed was above and beyond a dream come true. Experiencing his arrival on set was unbelievable. Every single person on the crew, including people you hadn't seen in months, suddenly showed up. It was a beautiful, perfect symmetry."[1]
As for the unique connection between Captains Jack and Teague, Johnny Depp notes, "You get the feeling that there was a real tough-love relationship there. Teague is one of those pirates who would give you a hug one minute, and blow you away the next. Or maybe he'll blow you away and then give you a hug. You don't know what to expect from him."[1]
"It was really interesting to see the kind of mutual respect that Keith seemed to have for the actors and crew, and that they had for him, his artistry and his long, celebrated career," notes producer Jerry Bruckheimer. "I think he had a lot of fun. In fact, he didn't want to quite leave the set. Usually, when an actor is finished with a scene, they go to their trailer until the next setup. But Keith was hanging around the set even in between his scenes. I think Keith took his personalized chair when he left as a remembrance of the experience, and I'm sure he took his costume. If he didn't, I hope he did."[1]
For At World's End, Keith Richards was listed in the film's ending credits as a "Special Appearance", along with his name also following in the main cast credits. Richards was also credited for writing and performing Only Found Out Yesterday, which he did play on guitar onscreen as Captain Teague.
On Stranger Tides

[

]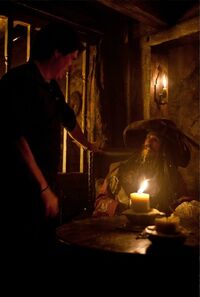 In April 2010, was confirmed that Johnny Depp was in talks to get Keith Richards to return, with his fellow Rolling Stones band member Mick Jagger, for the fourth Pirates installment, On Stranger Tides.[7] While Mick Jagger was unable to make an appearance, Keith Richards was able to reprise his cameo role as Captain Teague.
Johnny Depp, who has openly stated that Richards was one of his key inspirations for Captain Jack Sparrow, says, "After having Keith on the third film, I knew that he had to come back. I spoke to Jerry and the screenwriters early on, and everyone agreed. The global reaction to Keith's presence as Captain Teague was monumental. Keith was more than ready to come back, as long as it made sense within the context of the story. I thought the way Ted and Terry handled it was wonderful, because yet again, he comes in just at the right moment."[8]
"He's a fascinating man, you know," continues Depp. "I've known him for a long time, and to get periods like that where it's just him and me hanging out, sitting around in the trailer yakking about music, movies, whatever, was a real pleasure."
"Johnny was the engineer," adds Richards. "He said to me, 'Are you in?' And I said, 'Just give me the rig, baby.' It's so much fun."[8]
Director Rob Marshall, who succeeded Gore Verbinski in On Stranger Tides, was also thrilled to be working with the rock legend. "He is a very sweet man and very funny, very self-deprecating," said the director. "After we shot his scene, I said, 'Keith, that was fantastic. I'm so impressed.' And he said slyly, 'You should see my Hamlet.' It was a joy to work with him, because he's such fun. He's terrific in the movie and Johnny adores him. They have this amazing chemistry."[8]
It was for the making of this film that Richards and Depp maintain that Teague was Jack Sparrow's father. Their belief was further proven from the scenes they filmed where Jack called Teague "Dad", and Teague called Jack "Son".[9] The scenes that Johnny Depp as Captain Jack Sparrow and Keith Richards as Captain Teague filmed at was on the backlot set and E Stage in Pinewood Studios, with one scene taking place in the Captain's Daughter tavern, which was illuminated by flickering candlelight and populated by the two characters.[8]
For On Stranger Tides, as was for the previous film At World's End, Keith Richards was listed in the film's ending credits as a "Special Appearance", along with his name also following in the main cast credits.
Dead Men Tell No Tales

[

]
Having previously appeared in the last two movies in the series, At World's End and On Stranger Tides, Keith Richards was asked whether or not he would return for the fifth Pirates of the Caribbean film. Richards revealed he was unsure when the next installment would start filming but knew he would again make an appearance as Captain Teague, saying "So they say, you know, I've got the costume, and I'm waiting for the heads up, but apparently there is. I don't know if it'll be next year that we shoot it or whatever, but as I say, you know, I got the costume and the beard and the shirt." Keith Richards also said he would know when he is required as soon as he heard word from his friend and co-star Johnny Depp, "I'll wait for a call from Johnny."[10]
On April 2014, producer Jerry Bruckheimer was asked if Keith Richards would return. Bruckheimer responded in saying, "I hope so. We'd love to have him back, so we'll see."[11]
In an interview with Geoffrey Rush on the Rich Eisen Show. Rush revealed that Keith was unavailable to be on set during the filming for Dead Men Tell No Tales due to his hard schedule with The Rolling Stones.[12]
However despite Keith Richards being absent from the film, a younger version of Edward Teague still cameos during a flashback sequence.[13]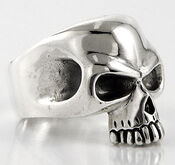 Behind the scenes
[
]
Richards used one of his personal effects, a skull ring, as one of the three rings Captain Teague wears.
Appearances
[
]
External links
[
]
Notes and references
[
]