"Truth? No truth at all."


This article is non-canon.
This article covers a subject that has been deemed non-canon by either the author or the Pirates of the Caribbean licensees, and thus should not be taken as a part of the "real" Pirates of the Caribbean world.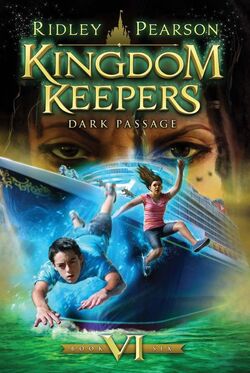 Kingdom Keepers is a series of  novels for young readers. It was written by Ridley Pearson and published by Disney Hyperion. The first novel, Disney After Dark, was published in 2005, the second, Disney at Dawn, was released on August 26, 2008, the third, Disney In Shadow, was released on April 6, 2010, the fourth, Power Play, on April 5, 2011, the fifth, Shell Game, on April 3, 2012, the sixth, Dark Passage, on April 2, 2013, and the final book, The Insider, on April 1, 2014. It contains several elements from the Pirates of the Caribbean mythos.
In the books, the main characters are kids who sign up for a program at Walt Disney World and end up at Disney World as holograms at night. Their mission is to stop the Overtakers, a group of villains from Disney-inspired media trying to escape the park and take over the world. 
Connection with Pirates of the Caribbean
Edit
External Links
Edit
Community content is available under
CC-BY-SA
unless otherwise noted.