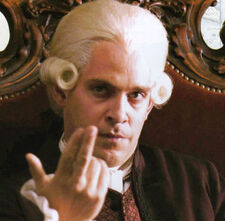 "Cutler Beckett?"
"It's Lord now, actually."
"Lord or not, you have no reason and no authority to arrest this man."
"Oh, in fact I do."
Lord was a title given to a male who held power and authority. Cutler Beckett of the East India Trading Company was granted the title of Lord at some point prior to assuming control of Port Royal.[1] His mentor Reginald Marmaduke Bracegirdle-Penwallow was also a Lord at some point before Beckett's own rise to lordship.[2] Lord John Carteret served on the Court of King George II around 1750.[3]
The nine members of the Brethren Court were known as Pirate Lords, each having dominion over a particular area of the world.[4]
Notable Lords
Edit
External links
Edit
Notes and references
Edit
Community content is available under
CC-BY-SA
unless otherwise noted.