2,981 articles aboard since July 4, 2006
The Pirates of the Caribbean encyclopedia that anyone can edit.

This wiki contains spoilers for all Pirates of the Caribbean related media.
Now proceed at your own risk, and these be the last friendly words you'll hear.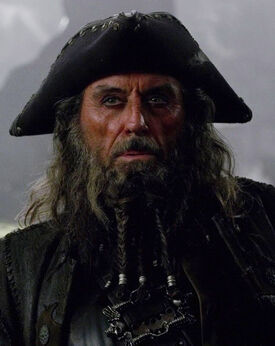 "If I don't kill a man every now and then, they forget who I am."
―Blackbeard to Angelica

, better known as Blackbeard, was a notorious English pirate who operated in the West Indies throughout the 18th century. With a name uttered in terror by all who sail the sea, or any unfortunate enough to encounter him on dry land, Blackbeard was known to be the blackest soul and the darkest heart of any pirate who ever lived, striking fear into the bravest of sailors. Blackbeard's many exploits became the stuff of various myths and legends of pirate lore, including the legend of being killed and beheaded by Royal Marines during the battle of Ocracoke Inlet in 1718.
His best known vessel was his flagship, the Queen Anne's Revenge, a fearsome frigate festooned with the bones of his victims and spits Greek fire from its bow to incinerate enemy ships or the occasional crew member fallen out of favor. Blackbeard was known to be incredibly cruel to his own crew, more so than the people he held captive, occasionally murdered men just so they could remember who he was. He resurrected some of the men he killed into obedient zombie officers. Blackbeard also had supernatural powers, having dabbled in the Black Arts and wielded a sword embedded with one of the three sapphires of Triton, which he used to control ships. In his later life, Blackbeard lived under the shadow of a prophesied death in the hands of a one-legged man, predicted by his zombie quartermaster. His only hope was to find the restorative waters of the fabled Fountain of Youth.
(more...)
---
Pirates of the Caribbean Wiki is not associated in any official way with the Walt Disney Company or any additional subsidiaries or affiliates.
The characters as well as "Pirates of the Caribbean" are TM and © (copyright) Disney, Jerry Bruckheimer Films, and their related entities.

"Remember, he who fights and runs away, lives to run away again!"

Refresh
Hi! I just watched the first four movies for the first time! I saw the 5th movie in the theaters but I don't really remember it so I am going to watch that one next!
Pirates of the Caribbean has alway…
See more >