The Pirates of the Caribbean Encyclopedia is a site dedicated to the franchise based on Walt Disney's Pirates of the Caribbean, including the ride, movies, books, games, toys, and all manner of Pirates media. Founded in 2006, the wiki has over 2,000 pages that provides in-depth details about the characters, ships, locations, and more.
Trending articles
Popular categories
View full main page


2,976 articles aboard since July 4, 2006
The Pirates of the Caribbean encyclopedia that anyone can edit.

This wiki contains spoilers for all Pirates of the Caribbean related media.
Now proceed at your own risk, and these be the last friendly words you'll hear.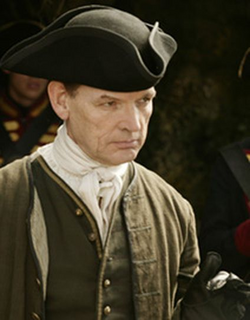 To arms! We give no quarter!Mercer to the crew of the Flying Dutchman
was a loyal employee of the East India Trading Company. Born in Scotland, Mercer served as the personal assistant of the Company's governor, Lord Cutler Beckett. Despite serving faithfully in his official capacity as a clerk, Mercer also carried out some of Beckett's more sinister agendas as an assassin and a spy. Mercer would stop at nothing to further his employer's pursuit of power.
As Lord Beckett's merciless and ruthless enforcer, Mercer came to Port Royal, Jamaica, in the Caribbean during Beckett's search for the Dead Man's Chest. He aided Beckett in taking over Port Royal as well as helped in manipulating the Swann family, which eventually, and inadvertently, lead to his employer's control of the heart of Davy Jones. Throughout Beckett's war against piracy, Mercer had led EITC soldiers in an attack against the crew of the Black Pearl in Singapore, and made a deal with the Chinese pirate Sao Feng, which allowed Beckett's flagship, the Endeavour, to temporarily capture the Black Pearl and the infamous Jack Sparrow. Towards the end of the war, Mercer was placed in charge of Jones' supernatural ship, the Flying Dutchman.
(more...)
---








---
Pirates of the Caribbean Wiki is not associated in any official way with the Walt Disney Company or any additional subsidiaries or affiliates.
The characters as well as "Pirates of the Caribbean" are TM and © (copyright) Disney, Jerry Bruckheimer Films, and their related entities.


Refresh
Uskok
•

Unfortunately, mates, our beloved actor, David Bailie, aka Mister Cotton, is no longer among us. He passed away on March 6, 2021. Rest in peace, Mister Cotton. You will be remembered.
See more >