The Pirates of the Caribbean Encyclopedia is a site dedicated to the franchise based on Walt Disney's Pirates of the Caribbean, including the ride, movies, books, games, toys, and all manner of Pirates media. Founded in 2006, the wiki has over 2,000 pages that provides in-depth details about the characters, ships, locations, and more.
Trending articles
Popular categories
View full main page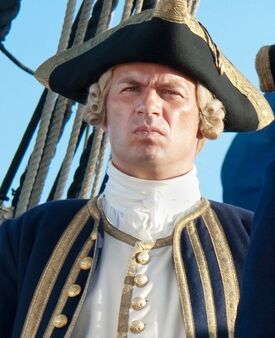 That's got to be the best pirate I've ever seen."
"So it would seem.Theodore Groves and James Norrington

was an officer of the British Royal Navy and the East India Trading Company. Bewigged and resplendent in his uniforms, Groves acted under the Union Jack, owing his allegiance to King George II and Country. Groves had shown true loyalty to his crew members, no matter what disaster occurred.
With the forces stationed at Port Royal, Groves served as an Royal Navy officer under the command of Commodore James Norrington. He was later promoted as lieutenant and served aboard the HMS Endeavour, the flagship to Lord Cutler Beckett of the East India Trading Company. Groves accompanied Beckett's armada in their war to wipe out piracy from the world. During the battle with the pirates, Groves gave the order to abandon ship when Beckett couldn't give the order to fire at the Flying Dutchman and the Black Pearl. Several years later, Groves would had been promoted to lieutenant commander and participated in the quest for the Fountain of Youth. Groves sailed aboard the HMS Providence, the pride of the King's fleet, with a British crew under the command of Captain Hector Barbossa, a former pirate and privateer in King George's court.
(more...)
---








---
Pirates of the Caribbean Wiki is not associated in any official way with the Walt Disney Company or any additional subsidiaries or affiliates.
The characters as well as "Pirates of the Caribbean" are TM and © (copyright) Disney, Jerry Bruckheimer Films, and their related entities.

Do you have the courage and fortitude to follow orders and stay true in the face of danger and almost certain death?Jack Sparrow


Refresh

Bill Nighy breaks down his most iconic characters, including his roles in Love Actually, Pirates of the Caribbean, The Girl in the Café, Underworld and Gideon's Daughter. Skip to 8:11 for the Pirates of the…

See more >