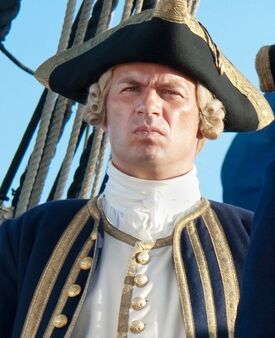 "That's got to be the best pirate I've ever seen."
"So it would seem."
―Theodore Groves and James Norrington

was an officer of the British Royal Navy and the East India Trading Company. Bewigged and resplendent in his uniforms, Groves acted under the Union Jack, owing his allegiance to King George II and Country. Groves had shown true loyalty to his crew members, no matter what disaster occurred.
With the forces stationed at Port Royal, Groves served as an Royal Navy officer under the command of Commodore James Norrington. He was later promoted as lieutenant and served aboard the HMS Endeavour, the flagship to Lord Cutler Beckett of the East India Trading Company. Groves accompanied Beckett's armada in their war to wipe out piracy from the world. During the battle with the pirates, Groves gave the order to abandon ship when Beckett couldn't give the order to fire at the Flying Dutchman and the Black Pearl. Several years later, Groves would had been promoted to lieutenant commander and participated in the quest for the Fountain of Youth. Groves sailed aboard the HMS Providence, the pride of the King's fleet, with a British crew under the command of Captain Hector Barbossa, a former pirate and privateer in King George's court.
(more...)
---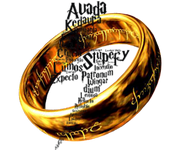 Pirates of the Caribbean Wiki is not associated in any official way with the Walt Disney Company or any additional subsidiaries or affiliates.
The characters as well as "Pirates of the Caribbean" are TM and © (copyright) Disney, Jerry Bruckheimer Films, and their related entities.

"One word, love; curiosity. You long for freedom. You long to do what you want to do because you want it. To act on selfish impulse. You want to see what it's like. One day you won't be able to resist."

Refresh
Ahoy, mates. Look what I found. One earlier version of Jeff Nathanson's Pirates of the Caribbean: Dead Men Tell No Tales script. Enjoy!

https://www.scriptslug.com/assets/uploads/scripts/pirates-of-the-…

See more >
Community content is available under
CC-BY-SA
unless otherwise noted.