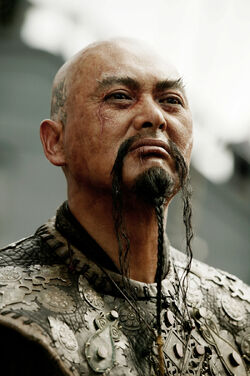 "It seems the only way a pirate can turn a profit anymore...is by betraying other pirates."
―Sao Feng

was a legendary Chinese pirate, well-known as the Pirate Lord of Singapore and scourge of the South China Sea. Known as a fierce captain, Feng controlled the sea passages from the bathhouses of Singapore, had an army of Chinese pirates under his command, and used the opulent junk known as the Empress as his flagship. During his time as Pirate Lord, Sao Feng possessed the navigational charts, the map to the Farthest Gate. A group of pirates led by fellow Pirate Lord Captain Hector Barbossa came for these charts, sending Will Turner to steal them, while simultaneously infiltrating his bath house. This almost brought the two groups into conflict with each other until the untimely arrival of Mercer's soldiers of the East India Trading Company. Near the end of the battle, Feng allowed Barbossa's crew to take one of his ships and his charts to Davy Jones' Locker to rescue Jack Sparrow and the Black Pearl. As betrayal piles upon betrayal, it becomes clear to Sao Feng that no one can be trusted and that he must choose a side.
(more...)
---
Pirates of the Caribbean Wiki is not associated in any official way with the Walt Disney Company or any additional subsidiaries or affiliates.
The characters as well as "Pirates of the Caribbean" are TM and © (copyright) Disney, Jerry Bruckheimer Films, and their related entities.

"You can sleep when you're dead. Push on!"

Refresh
Uskok
•

Unfortunately, mates, our beloved actor, David Bailie, aka Mister Cotton, is no longer among us. He passed away on March 6, 2021. Rest in peace, Mister Cotton. You will be remembered.
See more >
Community content is available under
CC-BY-SA
unless otherwise noted.