Morey[1] was a crew member aboard the Flying Dutchman, serving under Captain Davy Jones around the time Lord Cutler Beckett assumed control of the Flying Dutchman and its crew.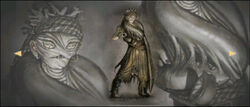 At some unknown point in his life, Morey found himself in servitude aboard the Flying Dutchman under Captain Davy Jones, and over time, Morey had assimilated various aquatic flora and fauna into his body. The most prominent of these transformations was that his head had turned into that of a moray eel. He fought against the crew of the Empress, engulfing one of the pirates' heads with his powerful jaws, and rocking it from side to side. The gaping hole that was once Morey's neck, seems to be a likeness to the ruffs worn during the 1500's. He was also Davy Jones's elite crewman. Morey was known to sailors as the most ruthless crewmember, never leaving any survivors. Morey was seen engulfing a Chinese pirate's face aboard the Empress.
He participated in the battle around Calypso's maelstrom and managed to board the Black Pearl safely. He duelled Hector Barbossa, but the fearsome pirate captain stabbed Jelly's sword through Urchin into Morey. Morey later successfully killed a Chinese pirate, then went on to fight the ruthless Captain Hector Barbossa, engaging him in a sword fight. Morey tried to engulf Barbossa's face, but the famed captain beheaded him and stabbed him in the back. Morey likely reverted back to his human form when William Turner became captain of the Flying Dutchman. Whether he chose to remain in service aboard the vessel or left its crew remains unclear, leaving his final fate unknown.
Morey was played by an uncredited actor in At World's End.
In early concept art for the film, Morey was depicted as a woman crewmember, beautiful but dangerous. Had this concept been maintained in the finished version of the film, Morey would have had the distinction of being the only female crewmember of the crew of the Flying Dutchman.
Crash McCreery incorrectly referred to him as a sea slug in a behind-the-scenes documentary.
In the At World's End video game, Morey appeared under the name "Electric Arm". As it shows, he is a body with an eel's tail and head as replacements for the somewhat missing arm and head. He is the third boss of the game and the boss for the "Pearl vs Dutchman" level, but Will Turner ultimately manages to kill him, albeit during the events of Dead Man's Chest.
Community content is available under
CC-BY-SA
unless otherwise noted.