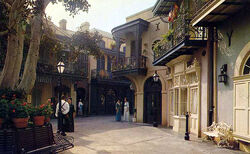 "This is what we call New Orleans Square. All these little streets are going to be very intriguing little shops and things."
New Orleans Square is a themed land found exclusively at Disneyland, though a similarly themed area can be found within Tokyo Disneyland's Adventureland. The area is an intricate series of "streets" that weave around shops and restaurants. New Orleans Square is where Pirates of the Caribbean is located.
Description
Edit
Park History
Edit
"They cleared out the area where New Orleans Square would be, dug a giant hole in the ground for the basement, because all the attractions are underground, underneath New Orleans. And once the steel was up, they stopped, because Walt Disney got involved in the New York World's Fair."
Based on 19th-century New Orleans, it was the first new land to be added to Disneyland after the park's opening. The land was opened to the public on July 24, 1966 with New Orleans Mayor Victor H. Schiro participating in the dedication ceremony. The name is a bit of a misnomer, since the area does not resemble a square so much as an intricate series of "streets" that weave around shops, restaurants, and the first Pirates of the Caribbean building. It includes the only overnight accommodations in the park open to the public, the Disneyland Dream Suite, stays at which are often a prize offered through various promotions.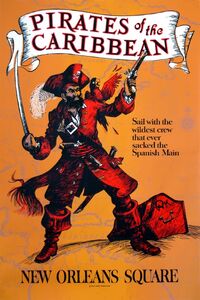 Pirates of the Caribbean and Related Attractions
Edit
New Orleans Square had some of the most popular attractions in Disneyland, including Pirates of the Caribbean and The Haunted Mansion. For those who are hungry, the Blue Bayou restaurant has a view of the Laffite's Landing section of the Pirates of the Caribbean ride. Those wishing for a souvenir can visit the Pieces of Eight shop and have their future told by Fortune Red. At one time, New Orleans Square was also home to the Pirate's Arcade Museum, though it was replaced by the Pieces of Eight shop.
Community content is available under
CC-BY-SA
unless otherwise noted.