Cobra Kai Season 4 - The Loop
Play Sound
Nine Pieces of Eight
Made
Owner(s)

The nine Pirate Lords

Affiliation
First appearance
Last appearance
Cause

Destroyed in order to free Calypso.
The Nine Pieces of Eight, often referred to as just pieces of eight, were an important symbol in Pirate Lore as the items owned by the Pirate Lords of the Brethren Court.
History
[
]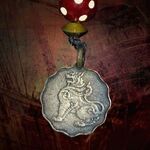 Each of the nine Pirate Lords agreed to hold a piece of eight to be presented during a meeting of the Brethren Court, though the term came to apply to a variety of items and trinkets as the pirates found themselves short on money, simply keeping the original term as it sounded more 'piratey'. Each piece of eight reflected something about the lord who possessed the piece, and altogether, the nine pieces were used to bind the sea goddess Calypso to a human form, after Davy Jones informed the Brethren on how to capture her.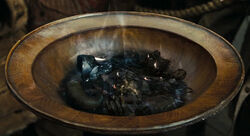 Pieces of eight were used to call the Brethren Court to assemble at Shipwreck Cove. The sea shanty Hoist the Colours was called forth by Hector Barbossa and sung at Fort Charles during Lord Cutler Beckett's drive to eradicate piracy on the Seven Seas, and the coins reverberated with the song. The nine pieces of eight were burned as part of the incantation to release Calypso prior to the Pirate Lords' battle against the East India Trading Company.
Pieces of eight of the Pirate Lords
[
]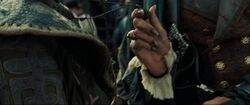 Behind the scenes
[
]
Appearances
[
]
Notes and references
[
]