Wiki Targeted (Entertainment)
Play Sound
Pirate's Lair on Tom Sawyer Island, often shorten as Pirate's Lair, is an attraction at Disneyland featuring the characters of the Pirates of the Caribbean films. The attraction opened on May 25, 2007 to coincide with the release of Pirates of the Caribbean: At World's End. The attraction is on Tom Sawyer Island and its placement is loosely justified by Disney on account of the Pirate games Tom and Huck played in the original novel by Mark Twain.
Description
[
]
Visitors begin by riding on Frontierland boats along Rivers of America. They are given island maps as they head ashore at Pirate's Point. There, they see Jack Sparrow's warning that he's on the island. It becomes clear that Jack isn't the only one there; Will Turner has set up a blacksmith shop and Elizabeth Swann has left behind a portrait, diary, and love letters. Pintel and Ragetti also appear in the form of a pop-up head and skeletal arm.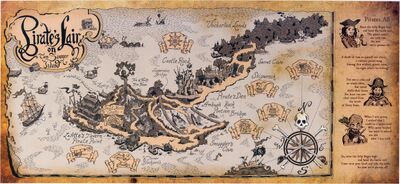 Deep in the caves is Dead Man's Grotto. Along with ghosts and treasure, there is also the Dead Man's Chest. Visitors can feel Davy Jones' beating heart and hear his voice.
Other areas worth a visit include Smuggler's Cove, Tom & Huck's Treehouse, and Castle Rock. Sharp-eyed visitors may find hidden treasure and even a bone cage like the Pelegostos use.
Also on the island is "Jack Sparrow's Swashbuckling Adventure". During the show, Jack Sparrow tricks a pirate into retrieving a treasure map from the Casque of the Unknown. The show includes swordplay, acrobatics, and a cannon battle. It runs several time daily.
Also on the island is a band of roving pirates looking for new recruits to take the Pirates' Oath as well as the Bootstrappers, a pirate band.
External links
[
]