Wiki Targeted (Entertainment)
Play Sound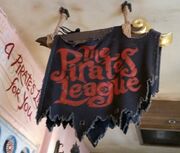 The Pirates League is an attraction at the Magic Kingdom. Located near Pirates of the Caribbean, the entrance is marked with a sign that looks like a piece of a ship with a cannon sticking out. The interior is decorated with many pirate-themed objects including two of the cannons from Pirates of the Caribbean: Dead Man's Chest, Jack Sparrow's Jolly Roger, and the flag of the East India Trading Company.
Process
[
]
Guests who go to the Pirates League become pirates. First, the guest is given a pirate name. The price involves rolling a pair of dice and consulting a book. Guests sign their new name in a guest book.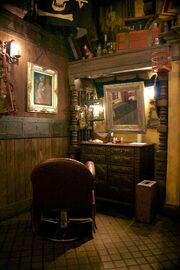 Next, the guest is made to look like a pirate. There are two different packages: First Mate and Empress. Both come with a reversible bandanna, earring, eye patch, sword, temporary tattoo, and pirate coin necklace. The First Mate package includes removable fake teeth and a choice of five facial affects: Cursed Pirate, Captain Hook, Smokey-Eyed Jack, Multi-eyed Jack, and Black-Eyed Jack. The Empress substitutes make up including nail polish and a face gem.
Once the guest is finished with that, a photo is taken. After the picture is taken, they are taken to Captain Jack's secret treasure room. Upon leaving, guests are given a copy of the pirate oath with their pirate name on it.
Costumes, hats, and photos are available for an additional charge. The costumes include Captain Jack, Elizabeth Swann, Boney Pirate, Captain Hook, Pirate Maiden, and the Garb Shift. The first picture is $14.95 and each additional picture is $9.95.
Later in the day, anyone who joined the Pirate League that day can join the Parade of Pirates. Usually, the parade is held at 2 PM, but it can vary from day to day.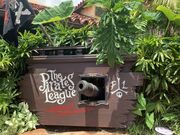 History
[
]
The Pirates League opened on June 23, 2009. The attraction originally had three different packages. In addition to the First Mate and Empress, there was also the Captain package. The Captain package cost $124.95 included a costume and three pictures instead on one.
Price and Other Considerations
[
]
The whole process takes between 30 and 60 minutes. Each package costs $29.99. Reservations are recommended and can be made up to 180 days ahead of time. A $10 cancellation fee will be charged for no-shows or cancellations within 24 hours of a reservation. Guests must be at least 3 years old and children must be accompanied by someone 18 or older at all times.