Pirates of the Caribbean: On Stranger Tides was the original soundtrack of the motion picture Pirates of the Caribbean: On Stranger Tides. The soundtrack was composed by Hans Zimmer with Rodrigo y Gabriela - with collaborations by Eric Whitacre, Eduardo Cruz and Geoff Zanelli - and was distributed as a single-disc CD by Walt Disney Records on May 17, 2011. The soundtrack features 11 tracks plus seven remixes.[1][2]
Making the soundtrack
Edit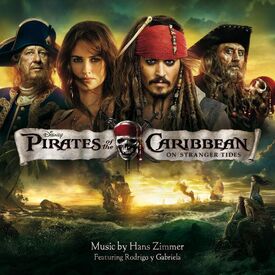 Hans Zimmer began working on the musical score on Pirates of the Caribbean: On Stranger Tides in January 2011. Zimmer said that he tried to incorporate a rock n' roll sound, as he felt "pirates were the rock 'n' rollers of many, many years ago",[3] and Spanish elements, which led to a collaboration with Mexican guitar duo Rodrigo y Gabriela and a tango song written by Penélope Cruz's brother Eduardo. [4][1] Regarding Rodrigo y Gabriela, Mitchell Leib, President of Music and Soundtracks for the Walt Disney Studios Motion Pictures Group stated[5]:
"We'd always felt it a creative necessity that the 'Pirates of the Caribbean 4' score have an original sound all its own and to distinguish itself from the first three films. With the inspiring addition of Rodrigo y Gabriela's unique artistry under the direction of maestro Hans 'Long John' Zimmer, this iconic score franchise take its next step forward with an imaginative, fresh and individual new sound."
American composer Eric Whitacre helped with the choir-based songs, such as the mermaid theme, which included Whitacre's soprano wife, Hila Plitmann.[6][7] Zimmer's collaborator Geoff Zanelli contributed many cues, mostly featured in the track "On Stranger Tides".[8] Trumpetist Arturo Sandoval is featured throughout the score.[2]
The music was recorded at the Sony Scoring Stage in Culver City, California, conducted by Nick Glennie-Smith,[9] with Whitacre's choir being done at Abbey Road Studios.[10]
Hans Zimmer composed several new themes for the fourth film, the main one being heard in the first part on "On Stranger Tides", also used as a theme for the mermaids. "Angelica" is suite of themes for the character with a Latin American style.
The Complete Original Motion Picture Score
Edit
Some time after the official soundtrack's release, a soundtrack with over three hours of music from On Stranger Tides was leaked on the internet, mostly of demo tapes and early recording sessions. Many fans were unhappy with the official soundtrack due to the prominence of remixes and lack of score (less than 30 minutes). It has been rumored that Zimmer himself leaked the music in response to fans asking him to release it officially.
Track listing
Edit
Guilty Of Being Innocent Of Being Jack Sparrow (Hans Zimmer)
Angelica Featuring Rodrigo y Gabriela (Hans Zimmer, Eduardo Cruz, Rodrigo Sanchez and Gabriela Quintero)
Mutiny (Hans Zimmer)
The Pirate That Should Not Be - Rodrigo y Gabriela (Rodrigo Sanchez, Gabriela Quintero and Hans Zimmer)
Mermaids (Hans Zimmer and Eric Whitacre)
South of Heaven's Chanting Mermaids - Rodrigo y Gabriela (Rodrigo Sanchez, Gabriela Quintero and Hans Zimmer)
Palm Tree Escape Featuring Rodrigo y Gabriela (Hans Zimmer)
Blackbeard (Hans Zimmer)
Angry and Dead Again - Rodrigo y Gabriela (Rodrigo Sanchez, Gabriela Quintero and Hans Zimmer)
On Stranger Tides (Hans Zimmer, Geoff Zanelli and Eric Whitacre)
End Credits (Hans Zimmer)
Guilty of Being Innocent of Being Jack Sparrow Remixed by DJ Earworm
Angelica (Grant Us Peace Remix) Remixed by Ki:Theory
The Pirate That Should Not Be Remixed by Photek (Rodrigo Sanchez, Gabriela Quintero and Hans Zimmer)
Blackbeard Remixed by Super Mash Bros & Thieves
South of Heaven's Chanting Mermaids Remixed by Paper Diamond
Angry and Dead Again Remixed by Static Avenger (Rodrigo Sanchez, Gabriela Quintero and Hans Zimmer)
Palm Tree Escape Remixed by Adam Freeland (Hans Zimmer)
External links
Edit
Notes and references
Edit