"The East India Trading Company has need of your services."


The blank edges of the map must be filled in. This article has an excess of redlinks in it.
Attention is requested to create new articles from these links. Please remove this message when finished.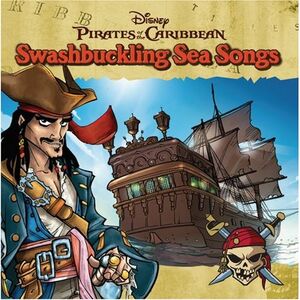 Pirates of the Caribbean: Swashbuckling Sea Songs is a compilation of songs about pirates. The music was arranged by Marco Marinangeli, Gary Powell, and Jerry Cleveland. Jeff Sheridan served as producer; both Ted Kryczko and Dani Markman were executive producers. The vocals were done by Randy Crenshaw, Larry Seyer, David Wise, Craig Toungate, David Jeremiah, David Breeding, and Jerome Schoolar. It was released as a one-disc music CD on February 13, 2007.
Track listing
Edit
Away, Away, Away
Treasure
The First Mate Is a Monkey
Welcome to the Caribbean
Stowaway
The Legend of Davy Jones (Forty Fathoms Deep)
Shiver Me Timbers
Sailing for Adventure
Blow the Man Down
The Pirate King
Pirates of the Black Tide
Davy Jones' Locker
This album's rendition of Yo Ho is the same recording used on the Pirates of the Caribbean ride.
External links
Edit
Community content is available under
CC-BY-SA
unless otherwise noted.