"The East India Trading Company has need of your services."


The blank edges of the map must be filled in. This article has an excess of redlinks in it.
Attention is requested to create new articles from these links. Please remove this message when finished.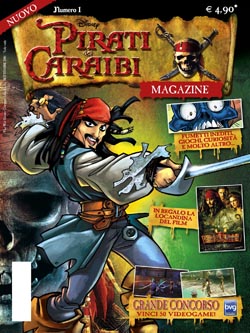 Pirati dei Caraibi Magazine is a magazine published in Italy and sold in several countries throughout Europe. The magazine mostly focused on comics based on Pirates of the Caribbean, but it also contained other articles, games, and profiles about the characters in the series. It was a seven-issue mini-series. The magazine was launched September 2006.
Pirates of the Caribbean StoriesEdit
Issue #5
Edit
Issue #6
Edit
Issue #7
Edit
Cristina Giorgilli
Gianmarco Villa
Igor Chimisso
Valentino Forlini
Lucio Leoni
Massimiliano Narciso
Diego Cajelli
Alessandro Ferrari
Alessandro Sisti
External Links
Edit
Community content is available under
CC-BY-SA
unless otherwise noted.