The Providence is a replica of the original Providence built in 1976 to honor the original's key role in the American Revolution. The original Providence was a merchant ship turned navy ship and the first ship in Rhode Island's navy.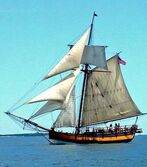 The Providence was used during filming of Pirates of the Caribbean: Dead Man's Chest to represent various vessels. She appeared as background merchant, British Royal Navy, and pirate ships, though most notably appeared as the Turkish fishing boat destroyed by the Kraken.
To prepare the Providence for the film, props were added to cover up the ship's modern instruments, the rigging was redone to look more traditional, and fiber glass was added to both sides of the ship. The port side was made to look like a British Royal Navy ship and starboard side, the Turkish fishing boat. The ship was crewed by five, who were given parts as extras.
Today, the Providence is used to educate the public about life at sea with the "Classroom Under Sails" program. Also, it serves as the Rhode Island's sailing ambassador at various sailing festivals. In addition to this, the Providence has regularly scheduled public sails and can be chartered for private trips. She is crewed by volunteers.
Appearances
Edit
External links
Edit