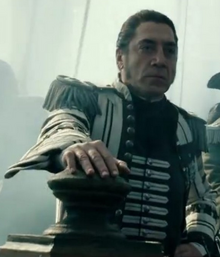 "Pirates had infected the seas for generations, taking the life of my father and his father before him. So I vowed to end this plague once and for all. And that's what I did. I destroyed dozens of ships."
―Armando Salazar
This family was a Spanish family of two naval officers and people who suffered misfortunes when their life was crossed with piracy.
Known family members
Edit
Armando Salazar : A well-known Spanish captain who made a vow to kill all pirates after certain misfortunes, was feared by all pirates and was close to ending piracy, but was tricked by Jack Sparrow to be captured in the Devil's Triangle. Cursed to become a ghost, he was trapped for decades, until being released by the same Jack Sparrow in 1751 who betrayed his compass. That same year, Salazar would free himself from his curse and end up being killed again by Hector Barbossa
Armando Salazar's grandfather : He was killed by pirates.
Armando Salazar's father : A corrupt admiral who was arrested by treason and imprisoned for a year. When he returned home, he was killed by his son Armando, who blamed him for his mother's death.
Armando Salazar's mother : Arrested for her husband's crimes and died in a workhouse.
Family tree
Edit
Unknown man--+--Unknown female             
            |
            |
            |
            |
         Unknown Admiral--+--Unknown female-
            |
            |
            |
            |
   Armando Salazar

Behind the scenes
Edit
The family's backstory was mostly revealed in the film's novelization.
Community content is available under
CC-BY-SA
unless otherwise noted.