Seref
Career information
Owner(s)
Captain(s)
Technical information
Type
Weapons

10 cannons

Affiliation
Behind the scenes
First appearance
Latest appearance
"The Seref is one of many ships Ammand uses to torture the English Navy."
―Unknown
The Seref was a galley owned and captained by Ammand. She was part of the Pirate Armada during the battle of Calypso's maelstrom.
"Abandon ship! We are sinking fast!"
―Ammand, under the illusion that the Seref is sinking.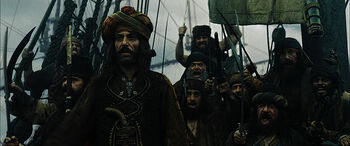 It's unknown when or where Ammand obtained the Seref. But it is known that the Seref served as Ammand's flagship since the 1720s. During the battle of Calypso's maelstrom the Seref was part of the Brethren Court's armada but was not directly involved into the fight like all other pirate ships except for the Black Pearl. The ship's fate after the battle is unknown.
Design and appearance
Edit
The Seref has three masts, each of them carries a lateen sail, and a great number of oars on each side. This impulse and her streamlined hull indicates that she must be quite fast. Unlike most galleys, she has no superstructure at the aft. Her hull is coloured dark gray with violet shades and her deck and the masts are brown. The sails were originally white but now they are gray from dirt and have some holes.
Behind the scenes
Edit
Appearances
Edit
Community content is available under
CC-BY-SA
unless otherwise noted.