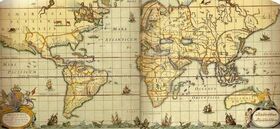 "I chased a man across the seven seas. The pursuit cost me my crew, my commission, and my life."
The Seven Seas is a phrase commonly used in reference to seven of the major oceans of the world. The phrase could also be used to indicate the entirety of the world itself.
The phrase first appeared in a hymn written in around 2300 BC in the city of Sumer, and was later taken up by the Greeks and Romans. In ancient times, seven was sometimes used to indicate "many" or "several". Seven is the biblical representation of completeness. The phrase commonly referred to the following seas:
Community content is available under
CC-BY-SA
unless otherwise noted.