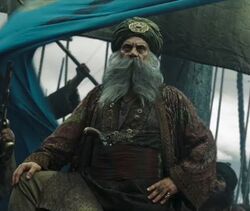 "Sri Sumbhajee proclaims this all to be folly!"
Sri, also spelled Shri, is a standard honorific title in Hindu, akin to "Mr." in English, "Effendi" in Turkish, or "Thiru" in Tamil.
Sri is often used as a respectful affix to the names of celebrated or revered persons. It is not gender-specific, but the assumption that it is gender-specific has resulted in the title of Shrimati (abbreviated Smt) for women.
The Pirate Lord Sumbhajee Angria used the title as of the fourth meeting of the Brethren Court.
External links
Edit