Wiki Targeted (Entertainment)
Play Sound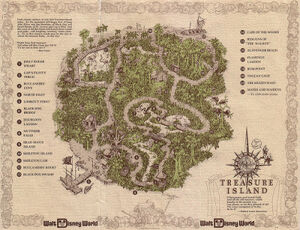 Treasure Island is an extinct attraction at Walt Disney World.
History
[
]
Originally named Riles Island, the island was immediately approved for some sort of augmentation. Early plans marked the island as Blackbeard's Island. The name didn't stick, but the pirate motif did. By 1972, plans for Treasure Island were underway.
The plans called for a complete renovation of the island. New elevations and lakes were added, plants from the Far East and South Africa was added, and exotic birds were added. They finished off with locations inspired by Treasure Island.
The island was opened to the public in 1974. Along with exotic birds, they also have other exotic animals. The island could be reached by a direct boat or as part of the Walt Disney World Cruise.
At one point, there was plans to add more locations from Treasure Island, including the Blockhouse, Spyglass Hill, Ben Gunn's Cave, Billy Bones' Dilemma, and the Wreck of the Hispaniola.
In 1978, the island was renamed Discovery Island and emphasized the ecological side of things. The island continued to operate until 1999, when all of the animals were relocated to Disney's Animal Kingdom and other zoos.
Description
[
]
Treasure Island was an island with trails around the island. The island contained different locations inspired by Treasure Island including Buccaneer's Cove, Lookout Point, and Rum Point. The most famous of these was the Remains of the Walrus. Among the island's tropical birds were Blue Pea Fowl, Spotted Guinea, flamingos, American Bald Eagles, macaws, and cockatoos.
External Links
[
]