"Have you noticed lately, the captain seems to be acting a bit strange...er?"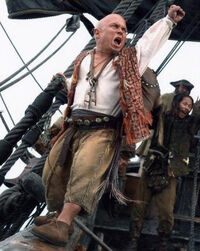 In the wake of recent interviews with Lee Arenberg and Mackenzie Crook, in which the two ignited their possible return to the fifth Pirates, there is another semi-cryptic message from Martin Klebba (aka Marty) who made a very interesting Twitter post just yesterday:
coming to an ocean near you! Now where did we leave that rum! The bands gettin back together! @exkevinmcnally @leearenberg #potc #pirates
To make this even more interesting, Klebba made replies with Kevin R. McNally (aka one Joshamee Gibbs), which seems to all but confirms their return...
McNally: @MartinKlebba You joining us Marty?
Klebba: @exkevinmcnally looks that way Pops! I hope Macca comes so Lee will be
McNally: @MartinKlebba Me too. I'm sure he will.
Assuming this this true, and technically it's yet to be confirmed...this is great news! From the look of the recent interview(s) and what Martin Klebba just posted, I think all our dreams for P5's casting have come true. The crew of the Black Pearl (or most of them) are back and sailing once again!
Now, if only something happened to Mr. Bloom so he can't make it to the Caribbean... hehe
So what say you, Pirates fans? Are you glad Marty's back? And maybe the return of the Black Pearl's crew?