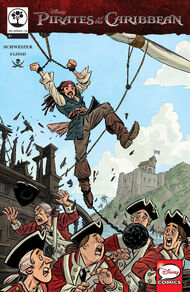 Hello mates! This is my first post in the POTC Wiki blog, so I wanted to speak with all of you present about this matter. It turns out that last year, Chris Schweizer was very kind and considerate to answer certain questions about the Pirates of the Caribbean comic book series published by Joe Books Ltd. Mr. Schweizer, as I mentioned, was very friendly to share some production details, so it occurred to me that maybe we could interview him and ask him even more details about the realization of his series of comics and maybe something more about his career as a writer.
Though his involvement in the franchise was little in comparison to other POTC crewmembers, Chris is still yet a crewmember of the POTC family, so I really think that it would be wonderful to get some insight of the POTC franchise from him, because we have a very strong chance that he may be able to answer most, if not all, our questions. This post, as such, has been made so all of you from the POTC fan community can put your questions so I could select them for the interview and get a response for each one by Mr. Schweizer.
Common, sea mates! Questions to the approach!
P.D.: I would like to also have your opinion about how much questions we should ask Mr. Schweizer given that I really would not like to waste his time but not abuse his kindness too, so please, post what do you think!