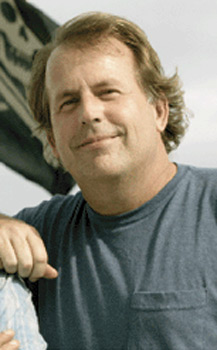 Hello mates! This is my second post in the POTC Wiki blog, so I wanted to speak with all of you present about this matter, which is about another interview. Last time, I made an interview with Chris Schweizer, who wrote the Pirates of the Caribbean comic book series. Now, we have here another writer. Ladies and gentlemen, now we have here to none other than.....Terry Rossio!!!
Yeah, along Ted Elliott, Mr. Rossio is one of the writers who created the Pirates of the Caribbean film series, which in turn is responsible for his wiki existing. Having wrote the first four films and at some degree the fifth film, Terry has left the series long ago and is now working on other projects, being him the second most successful screenwriter of all time! He also operated Wordplay, the top screenwriting website on Internet, which some of us have surely visited at some point while exploring this wiki.
Anyway, the thing is that I succeeded in contacting Mr. Rossio via Wordplay. His secretary attended me and send him my message, and he was able to respond it. He was very nice and friendly and thanked me for my kind words and said that he would be willing to make an interview with us about the making of the POTC films, and perhaps about his career as screenwriter.
Common, sea mates! Questions to the approach!
P.D.: The questions can be about of behind-the-scenes info or continuity issues.
Community content is available under
CC-BY-SA
unless otherwise noted.