Wiki Targeted (Entertainment)
Play Sound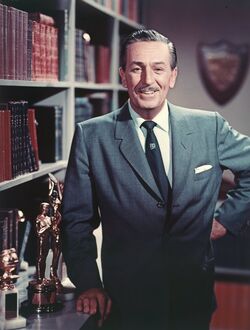 "I only hope that we don't lose sight of one thing—that it was all started by a mouse."
―Walt Disney
Walter Elias "Walt" Disney (December 5, 1901 – December 15, 1966), was an American film producer, director, screenwriter, voice actor, and animator. One of the most well-known motion picture producers in the world, Disney was also the creator of an American theme park called Disneyland, and is the co-founder with his brother Roy O. Disney of Walt Disney Productions, the profitable corporation now known as The Walt Disney Company. He was also the creator of many attractions including Pirates of the Caribbean.
Walt Disney is in particular noted for being a successful storyteller, a hands-on film producer, and a popular showman. He and his staff created a number of the world's most popular animated properties, including the one many consider Disney's alter-ego, Mickey Mouse.
Biography
[
]
Disneyland
[
]
"Disneyland will never be completed, as long as there is imagination left in the world."
―A wish Walt Disney made the day Disneyland opened
On a business trip to Chicago in the late 1940s, Disney drew sketches of his ideas for a amusement park where he envisioned his employees spending time with their children. These ideas developed into a concept for a larger enterprise which was to become Disneyland. Disney spent five years of his life developing Disneyland and created a new subsdiary of his company, called WED Enterprises, to carry out the planning and production of the park. A small group of Disney studio employees joined the Disneyland development project as engineers and planners, and were dubbed Imagineers.
When presenting his plan to the Imagineers, Disney said "I want Disneyland to be the most amazing place on Earth, and I want a train circling it". Entertaining his daughters and their friends in his backyard and taking them for rides on his Carolwood Pacific Railroad had inspired Disney to include a railroad in the plans for Disneyland. As one of the world's first theme parks, Disneyland would finally open on July 17, 1955.
Pirates of the Caribbean and Death
[
]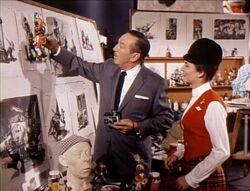 "Well now you got into this mess by going down a waterfall. Now how would you suppose we get them out of there?"
"By going up the waterfall?"
"That's right. Anything's possible in Disneyland."
―Walt Disney and Julie Riehm
This was the last attraction which Walt Disney participated in designing. In late 1966, he was diagnosed with lung cancer in his left lung, after a life-long habit of chain smoking. He was checked into the St. Joseph's Hospital across the street from the Disney Studio lot and his health eventually deteriorated. He was pronounced dead at 3 AM PST on December 15, 1966, having just celebrated his 65th birthday two weeks earlier. Pirates of the Caribbean opened three months after his death, in the spring of 1967.
A long-standing urban legend maintains that Disney was cryogenically frozen, and his frozen corpse stored beneath the Pirates of the Caribbean ride at Disneyland. However, the first known cryogenic freezing of a human corpse did not occur until January 1967, more than a month after his death.
See also
[
]
External links
[
]