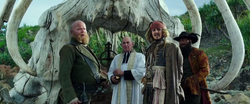 "Smell that? Whale oil. Stuff burns like a miracle from God."
"Can you make it work?"
"Made by the English. Let's not get our hopes up."
―Salaman and Blackbeard
Whales were gigantic marine mammals live completely in the waters. Dolphins and porpoises are relative to whales (biologically, these are the members of whales).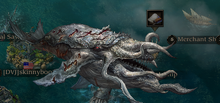 Accoring to Jack Sparrow, a legendary White Whale was saved by him and Will Turner and then later helped the two in defeating Viking King and fleeing the stranded Interceptor in northern sea. However, it's more probable the story was just one of Sparrow's many fabrications.[1]
Whales were heavily hunted for centuries mostly for oils and baleens, resulting in one of the pioneering reasons for men to sail and explore the oceans. Men ventured across the vast waters, and many ports such as Boston were opened for this purpose. these were used for various gears and lights. The lighthouse of notorious Whitecap Bay also used whale oils for lightening.[2]
Behind the scenes
Edit
Appearances
Edit
External links
Edit
Notes and references
Edit
Community content is available under
CC-BY-SA
unless otherwise noted.